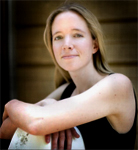 Dr. Sophie Webber, cellist and innovator, performs regularly in solo and chamber music settings in the USA and UK. An enthusiast of traditional and new music, from classical to rock, she has engaged in much collaboration with acoustic and electro-acoustic composers. Her involvement with mixed media performances led her to form the Chicago-based new music group, Fused Muse Ensemble, a group that specializes in the presentation of new music in performances that "fuse" together music with other media, such as dance, film, lighting, poetry, electronic music, and performance art.
Currently, Sophie is excited to be collaborating with musician Joel Styzens on his upcoming second album, Resonance (to be released early 2012), as well as with pianist-composer Zvonimir Nagy on a debut album of music for cello and piano that is inspired by the three Abrahamic religions (also to be released early 2012).
Sophie graduated from Trinity College of Music, London, in 2001, with a First Class Honors degree, as well as the Sir John Barbirolli memorial prize for cello. She gained a Masters and Doctor of Music degree from Indiana University, Bloomington. Her principal teachers include Janos Starker, Tsuyoshi Tsutsumi, and Richard Markson. She has been the recipient of a number of awards and prizes.
At Indiana University, Sophie held a position as Music Theory Instructor for four years. She has taught cello and double bass at Southeast Missouri State University and currently teaches cello, chamber music, and courses in World Music and Early Music History at Lake Forest College, as well as cello, chamber music, and musicianship classes at the Music Institute of Chicago.
www.sophiewebber.net