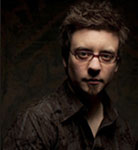 "Is it contemporary classical music? Is it jazz? Is it Windham Hill? No, it's a unique combination of all of the above with sweet moments of guitar and soaring cello lines spiced up with complex rhythms and harmonies. Styzens is clearly a skilled musician and an inventive composer."
—Victory Review, Seattle, WA
Joel Styzens is a multi-instrumentalist, composer, producer, teacher and hearing conservation advocate specializing in drums, percussion, guitar, piano and hammered dulcimer.
His award-winning 2009 album "Relax Your Ears" featured Chicago Symphony cellist Katinka Kleijn.  Serge Kozlovsky, Belarus Music Critic, calls Styzens "a master of sound," and the National Examiner defines Styzens' ability to create texturally unique compositions as "music that you feel down in your soul."
Joel Styzens has been featured on National Public Radio and in such publications as Time Out, the UK Hearing Times, and The Chicago Tribune. 
He continues to compose music for a wide range of projects, including film, animation, television, and his own ensemble.  
He is a full-time faculty member at Chicago's renowned Old Town School of Folk Music and runs the Chicago Tinnitus Support Group as well as his label, A-Sharp Records.