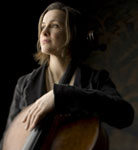 Katinka Kleijn has been a member of the Chicago Symphony Orchestra since 1995. Her list of solo credits includes appearances with the Chicago Symphony Orchestra at youth concerts; The Hague Philharmonic Orchestra; the Chicago Sinfonietta; the symphony orchestras of Elmhurst, Sheboygan, DuPage and Indian Hill; the Highland Park Strings; the New Millennium Orchestra; and the Illinois Philharmonic. Kleijn also appeared at the Marlboro Music Festival, on the Ravinia Festival's Rising Star Series, and on Dutch National Radio.
An avid chamber musician, she has partnered with pianist Richard Goode and cellist Lynn Harrell, joined the Chicago Chamber Musicians in 2006, and was invited to join the Kronos Quartet earlier in her career. As a member of the International Contemporary Ensemble (ICE), she recently toured to Poland and Mexico, and she performed the American premiere of Zona for solo cello and 7 instruments by Magnus Lindberg at the Mostly Mozart Festival at Lincoln Center. She regularly performs on the CSO's MusicNOW series, most recently in Mark-Anthony Turnage's Kai for solo cello and ensemble with Cliff Colnot conducting. Her May 2007 American premiere of Eternal Escape by Dai Fujikura was described by John von Rhein of the Chicago Tribune as "a five-minute tour de force, played with wonderfully incisive bravado."
Her 2003 recording of the David Baker Cello Concerto, with the Chicago Sinfonietta on the Cedille label, won rave reviews: The Strad magazine writes that "Kleijn gives infectious energy to the performance;" Fanfare comments that "Kleijn brings plenty of temperament and gorgeous tone to her solo part." She also recorded the Dello Joio Trio for Boston Records.
Kleijn has been a member of the DePaul University School of Music faculty since 2000. In the summer, she teaches at the Symphony Orchestra Academy of the Pacific (SOAP) in British Columbia, Canada.
To seek support for her younger colleagues, Kleijn founded the Holland-America Music Society in 1999, and in 2000, launched the annual HAMS Competition for strings, distinguished by its first prize award-the full-time use of a fine contemporary Dutch instrument.
Katinka Kleijn won first prize in the Dutch National Princess Christina Competition at age 16. She received a scholarship from the Dutch Government for studies with Lynn Harrell at the University of Southern California, and Laurence Lesser at the New England Conservatory of Music. Following graduation, she joined the Chicago Symphony Orchestra.